Pirates Matcha Chai Latte
Ceremonial Grade. Perfect Spice Balance. Just Enough Muscovado Sweetness. Coffee House Secret–Direct to You.
OH MY thank YOU Kristen Bell, Power Wielder. Listeners, due to your response to Armchair Experts, there will be some delay in receiving your order. Be assured orders are moving out! Arrr, we are on this! Celebrate Kristen's mention of PIrates Chai while you wait for your order to be crafted to extreme standards, which will not be compromised. Cheers, Mate!
NO CHARGE to your card until your shipment is imminent! Set it, forget it!
Buy Now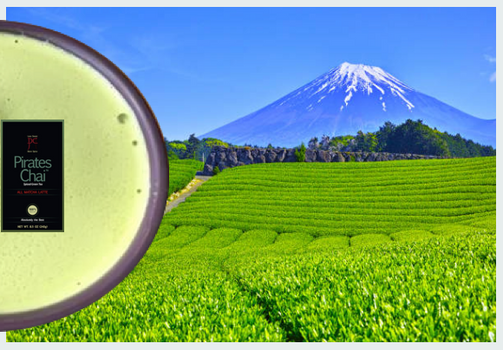 Preparation
Steam Whole Milk or Alt Milk "Very Hot, No Foam No Air"
Add milk leaving room to stir, and add Scoop or Pak.
Stir vigorously, add remaining milk. That's it!
1 tbsp Pirates for 12oz; 2 tsp for 1 cup (8oz)
Reserve: use less, or not!
No Filtering No Straining No Water
Milk: HOT, No Froth No Air, No Non/LowFat!
Stir as you enjoy
Buy Now